Sidoine Michele Magakou
PMHNP-BC
(Preferred pronouns: She/Her/Hers)
Michele sees all ages 5+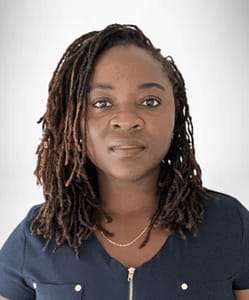 Bio:
Sidoine (Michele) is a compassionate Psychiatric Mental Health Nurse Practitioner with a wealth of experience spanning over 15 years in the nursing field. Her journey began as a Certified Nursing Assistant (CNA), evolving into over 12 years as a Registered Nurse, many of which were devoted to critical care, particularly during the challenging times of the Covid pandemic. Her profound experience during that period solidified her commitment to proactive patient care, striving to prevent their escalation into critical conditions.
Outside of her professional life, Michele finds joy in reading, immersing in podcasts, hiking, and cherishing moments with loved ones. Her keen interest in exploring diverse cultures through travel enriches her perspective. Michele strongly believes in holistic patient care and dedicates herself to continuously enhancing her knowledge and skills.
Her professional interests encompass a wide range, focusing on providing care to survivors of DV and human trafficking, individuals from diverse racial and ethnic backgrounds, those entangled in the justice system, women, men, parents, caregivers, rural communities, and cancer survivors. Michele's specialized expertise involves addressing substance abuse, conduct disorders, eating disorders, trauma/PTSD, mood disorders, OCD, attention disorders, and neurodevelopmental disorders.
Education:
Walden University

Emporia State University 
Licensure:
Colorado, Kansas